Assault Industries Presents: Unboxing The On-The-Go UTV Tool Kit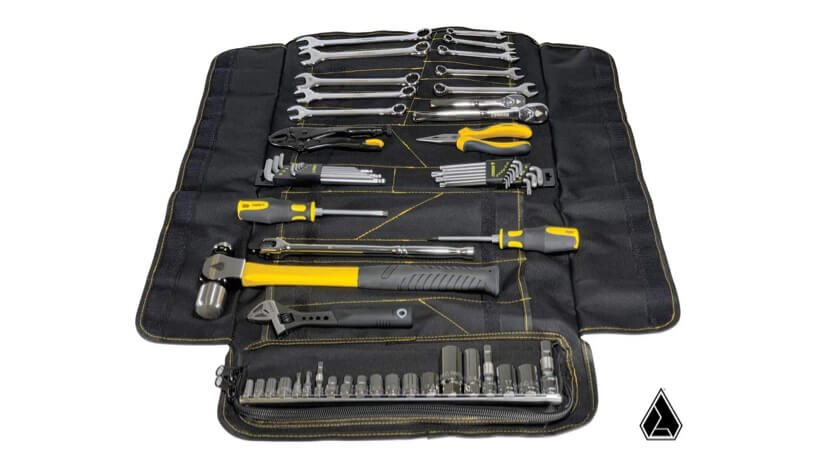 New Assault Industries On-The-Go Tool Kit (Metric)
The Assault Industries On-The-Go Tool Kit is an ultra high quality solution for UTV enthusiasts with the most commonly used tools.
The kit is curated with hand-selected tools used most often in the shop and on outings. This 60 piece kit is tailored to fit the needs of most UTV enthusiasts looking for a simple, lightweight solution that has everything to tackle most jobs, can be mounted or stored securely inside the vehicle and doesn't make noise!
When designing this tool kit, the team wanted to "ratchet" up the quality and standard features without adding cost! The no-noise pouch maximizes space and organization with durable woven nylon material and nicely accented with Assault yellow stitch.
The combination wrenches, while tucked into their pouches, display their respective metric sizes taking the guess-work out of making your selections. The new rebuildable ratchets feature an ergonomically designed handle, smooth seamless anti-skip operation with the higher spec.
Nylon Bag

Unique Assault Industries branded 62pc kit

Tailored to work with most UTV's and other vehicles that use metric tools

Custom made storage pouch; No noise design

Mountable; Lightweight and easy to carry with integrated handle

All common metric, Torx series tools; Limited lifetime warranty
Kit Includes: 90T (90 tooth gear) and tiny 4 degree swing for working in tight spaces! All tools come with a limited lifetime warranty! Package Contents: 1/4" Drive 1/4" Drive 90T Ratchet 1/4" Drive Sockets (8, 9, 10, 13mm) 1/4" 2" Long Extension 1/4" Drive T30 & T40 Torx 3/8" Drive 3/8" Drive 90T Ratchet 3/8" Drive Sockets (8, 9, 10, 13, 14, 16, 17mm) 3/8" 3" Long Extension 3/8" Drive 5/8" & 13/16" Spark Plug Sockets 1/2" Drive 1/2" Drive 12" Flex Handle 1/2" Drive 3" Extension 1/2" Drive Sockets (17, 19mm) Screwdrivers 1/4"x4" Slotted Screwdriver (Hex Bolster) #2x4" Phillips Screwdriver (Hex Bolster) Combination Wrenches 8, 10, 12, 13, 14, 15, 16, 17, 18, 19mm Hex & Torx Key Sets 9pc Metric Long Arm Ball-End Key Set 9pc Long Arm Torx Key Set Pliers 6" Long Nose Pliers 7" Locking Pliers Hammer 24oz Ball-Peen Hammer w/ Rubberized Fiberglass Handle Adjustable Wrench 8" Adjustable Wrench Additional Components Socket Rail 14.5" Pouch