BEST OEM ACCESSORIES FOR YOUR KAWASAKI KRX 1000
Easily upgrade your Kawasaki KRX 1000 with these top rated Kawasaki OEM Accessories for you side x side. Click on each listing to learn more about these RX OEM accessories as well as watch the install and other videos and purchase these KRX 1000 OEM accessories as well.
The Best KRX OEM accessories is a wide range because Kawasaki has developed so many premium OEM product that range from lights, audio, maintence, protective products like windshields and rooks to tow hooks.
Check out the list below to see the highest rated and best KRX 1000 OEM products by Kawasaki.
★★★★★
Easily upgrade your KRX 1000 with the Wide Fender Flare Kit. Easy to install and help protect you and your other riders while venturing out in your KRX.
ACCESS OTHER TOP RATED ACCESSORIES FOR YOUR KAWASAKI KRX 1000
View these KRX blog post articles to access more of the highly rated KRX 1000 Accessories.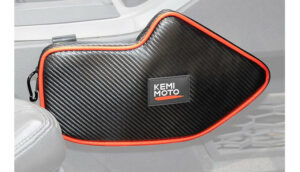 Kemimoto Teryx Protective Knee Pads, 2 Pack
Kawasaki KRX 1000 Kemimoto Teryx Protective Knee Pads Compatible with Kawasaki Teryx KRX 1000, 2 Pack to help protect you knees on trial rides.
TUSK KRX 1000 Cargo Barricade Tailgate
★★★★★
TUSK KRX 1000 CARGO BARRICADE TAILGATE. Easily add-on and install this Tusk KRX 1000 Cargo Barricade tailgate to your KRX 1000.